Bringing someone into your organization is perhaps one of the most important decisions you will make. Every employee is an extension of your brand and how they represent reflects your company.
From an employer's perspective, we went from a boom of having more candidates that we need, to war on talent. Organizations are struggling to find top talents and retain qualified employees; it is worth re-evaluating hiring strategies to optimize your workforce.
TABLE OF CONTENTS
Introduction
The Right Fit
Efficient Sourcing
Retain and Empower
INTRODUCTION
Acquiring the best applicants for a role can be a competitive advantage for your organization.
Have you ever thought about how much recruiters face in their roles? Is it important to have a long-term recruiting perspective? How can you create a more seamless application process and entice more candidates?
Recruitment can be defined as looking for and obtaining a pool of potential candidates with desired skills, knowledge, qualifications, and experience to allow you to select the right talent. The purpose of the recruitment process provides an organization with the greatest opportunity to hire the right fit from the widest pool of applicants.
Are you looking for employees who can contribute to your company's growth while adding value to culture and team? How does a recruiter decide whom to recruit? What are recruiters searching for in talent?
It starts with determining who could be a good candidate for the job.
Ever wonder what's in the recruiter's mind when they're sourcing to hire? Well, wonder no more. Recruiters have revealed their perspective: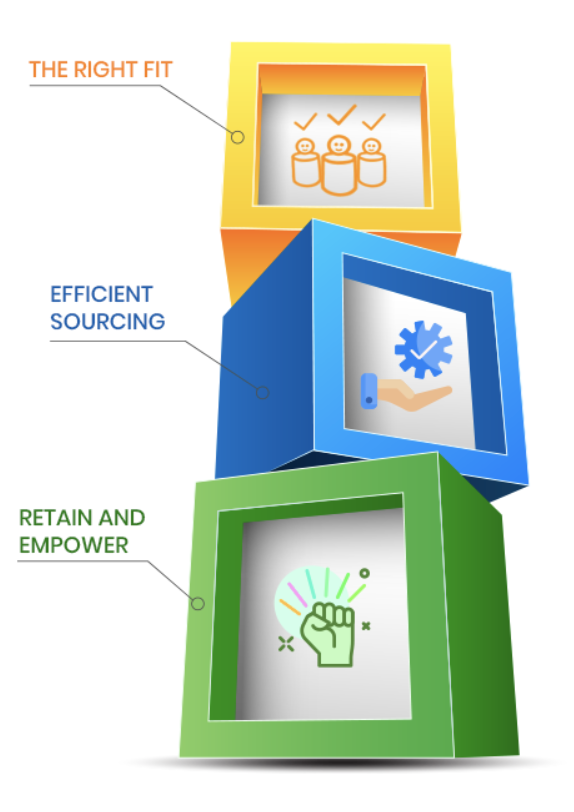 #1. THE RIGHT FIT
When it comes to hiring, it is not about finding someone to fill the position, but finding the right fit who will be dedicated to long-term success and paramount to longevity. Talent is considered a right match if their background and experience align with your job description and can carry out the responsibilities of the role.
It is important to categorize company culture and map how candidates fit into it. It requires deep clarity and understanding of your own company culture, a due diligence process to ensure candidates can fit into benchmarking, and keep track of talented potential hires in the recruitment process.

Matching a person to a job which they are capable of performing is vital and matching talent to your organization in which he or she is compatible is also important.
#2. EFFICIENT SOURCING
Sourcing means proactively looking for qualified candidates to fill employment gaps in your country. When sourcing on the web, recruiters seek out both active and passive candidates. 31% of all hires are proactively sourced and sourced candidates are more than 2 times as efficient to hire.
When you post a new job, the company receives thousands of applications, out of which few will be considered. Out of a few, if you select just one rest can be a part of your talent pool. For future relevant job openings when you re-engage declined candidates, where you will find suitably qualified candidates thereby resulting in efficient sourcing.
#3. RETAIN AND EMPOWER
One of the biggest challenges is figuring out how to make employees stick around. Employees to stay loyal and motivated need to be valued, challenged, and optimistic about the future of your organization.
Be a reference when it comes to solving your employee's problems as it provides trustworthiness. When you put employees in charge of their solutions, you foster independence. To retain talented people is best by giving them responsibilities.
Employees working with strong employer brands are more invested and present lower turnover rates. When employees feel happy to be a part of your company, they are productive and become brand ambassadors.
When you empower your employees, unity is created and that will become a key asset to your organization with long-term success. When employees enjoy their jobs for sure they take more initiative and feel empowered to make their own decisions.
RECRUITERS A GAME-CHANGER
A well-executed recruiting strategy can lead to better hires, increased productivity, and reduce turnover rate. When employers-built trust through action, advocacy, and candidate care initiatives – they could attract and retain talent in the long run.
When the right fit is hired, it means you have taken an important hiring decision where you've brought an asset that fosters teamwork and fits your organizational needs.
How good you are, clearly shows that your company is directly dependent on the quality of the talent you were able to attract and the robustness of recruitment strategies designed & employed in retaining talent.